IBV Valve System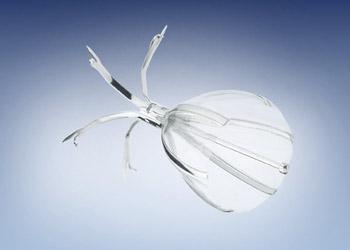 Intrabronchial Valve
IBV Valve System
Caution: Humanitarian Device. Authorized by federal law for the control of prolonged air leaks of the lung, or significant air leaks that are likely to become prolonged, following lobectomy, segmentectomy, or LVRS (lung volume reduction surgery). The effectiveness of this device for this use has not been demonstrated. Federal law restricts this device to sale by or on the order of a physician. The IBV Valve is not yet approved for use in emphysema, but is subject to an ongoing clinical investigation in which approval for use in emphysema will be sought. For more information, visit www.ibvinstructions.com or contact a sales representative at 866-497-1700, ext. 200.
---
Key Benefits
The IBV Valve System is a minimally invasive treatment option for providers managing post-operative air leaks. 
The small umbrella-shaped valves are deployed into the airways of the lungs via a catheter passed through a bronchoscope.
Once in place, the IBV Valves prevent air from flowing distally to the injured tissue while still allowing mucus to exit through normal ciliary transport. This reduction in the flow of air to injured lung tissue may promote healing and accelerate resolution of an air leak. The valves are later removed via a similar bronchoscopic procedure.
The IBV Valve System is available for use at approved sites only.
The information in this section is for healthcare professionals licensed to practice in the United States. This information should not be considered medical advice regarding a specific patient or patient type. Each healthcare professional who accesses this site retains sole responsibility for decisions regarding patient care. Please review the instructions for use for important safety information and other product information.