Flexible Video Ureteroscope (URF-V2)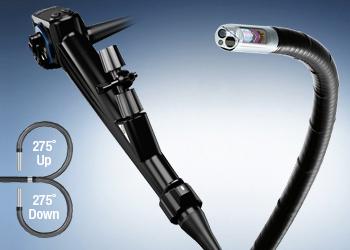 Video Ureteroscope
Flexible Video Ureteroscope (URF-V2)
The URF-V2 achieves a new standard in smooth insertability and high image quality. As slim as a fiberscope, yet with the image quality of a videoscope, every feature contributes to this scope's versatile performance. Improved visualization, facilitated maneuverability and reduced operator stress are now within reach.
---
Key Benefits
Chip-on-the-tip micromini CCD ensures significantly high image quality and produces a large image, which supports detailed and precise observation.
Narrow Band Imaging (NBI) enhances visualization of the capillary network and mucosal morphology.
Increased up/down angulation of 275°, combined with higher flexibility of the distal end, greatly improves access to targets in the renal calyces.
Product Support
Outer Diameter Insertion Tube:
Olympus Service & Repair
Olympus offers a broad range of services to healthcare professionals and to our customers, including contact hour and peer-based training courses; information, training tools and videos on infection control and reprocessing; authorized repair services and support on Olympus equipment; and financing solutions to help your facility with acquisition of new capital equipment, accessories, and maintenance plans.
Need Help?
Cleaning, Disinfection & Sterilization
The proper cleaning, disinfection, and sterilization of Olympus equipment is equally as important as their proper use.
Olympus Training & Proper Use
Olympus Continuum, is a comprehensive platform of education and training experiences led by healthcare experts from around the world. Learning opportunities include hands-on courses, online learning, lectures and workshops, peer-to-peer training, accredited continuing education, and on-demand learning.
For more information: Olympus Continuum Video