Always-On Tip Tracked™ Instruments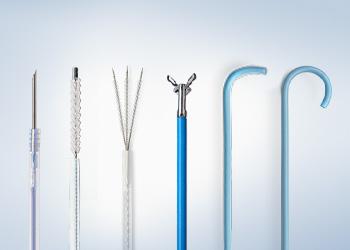 Endoscopic Devices
Always-On Tip Tracked™ Instruments
Our revolutionary Always-On Tip Tracked instruments feature electromagnetic sensors that enable you to continuously track the biopsy tool throughout the entire procedure – even during biopsy. These instruments fit down a 2.0mm WC or larger and work just like conventional instruments you are used to but without the need for fluoroscopy.1,2
Forceps
Offered in Serrated or Oval Cup
Needles
Featuring suction ports and various sizes to help acquire tissue for diagnosis.
Brushes
Standard or Triple Needle Brush available for cytology samples
---
Key Benefits

Biopsy Confidently: Always-On Tip Tracked instruments provide the ability to accurately biopsy targets under continuous guidance, without the need for fluoroscopy.1,2
Eliminate Blind Sampling: Engineered with Always-On Tip Tracked technology. Maintain navigation guidance throughout the entire procedure – even during biopsy.


---
E L Flenaugh, K H Mohammed. Initial Experience Using 4D Electromagnetic Navigation Bronchoscopy System With Tip Tracked Instruments For Localization of Peripheral Lung Nodules. The Internet Journal of Pulmonary Medicine. 2016 Volume 18 Number 1.
Raval AA, Amir L. Community hospital experience using electromagnetic navigation bronchoscopy system integrating tidal volume computed tomography mapping. Lung Cancer Manag. 2016 Apr;5(1):9-19. doi: 10.2217/lmt-2015-0007. Epub 2016 Apr 8. PMID: 30643545; PMCID: PMC6310327.
Complications from bronchoscopy are rare and most often minor, but if they occur, may include breathing difficulty, vocal cord spasm, hoarseness, slight fever, vomiting, dizziness, bronchial spasm, infection, low blood oxygen, bleeding from biopsied site, or an allergic reaction to medications. Some patients may experience rare but more serious complications such as collapsed lung, respiratory failure, heart attack, and/or cardiac arrhythmia.
Product Support
Catalog Number
INS-03521
INS-03622
INS-03723
INS-53004
Item Description
Always-On Tip Tracked Brush1
Always-On Tip Tracked Forceps, Oval Cup2
Always-On Tip Tracked Forceps, Serrated Cup3
Always-On Tip Tracked Triple Needle Brush4
Outer Diameter

1.8 mm
Working Length

1100 mm
Minimum Working Channel

2.0 mm