Brainlab
Optical Surgical Navigation System
Brainlab brings powerful and innovative surgical navigation technology to the ENT specialties, providing surgeons with the advanced image enrichment and visualization needed to perform complex and delicate procedures.
The intuitive user interfaces, automated workflows and advanced imaging that are the backbone of Brainlab image-guided surgery afford ease-of-use and unlock the power of diagnostic, surgical and post-operative patient data. Completely automated platform and software integration helps clinicians fully leverage available information in an era in which data is continuously growing in volume and complexity. Brainlab platforms are available with optical tracking.
Brainlab ENT Navigation offers advanced 3D displays, user-friendly touch-based and touchless patient registration options and real-time virtual anatomy updates. Surgeons can continuously track surgical instruments during procedures such as functional endoscopy sinus surgery (FESS). Brainlab ENT Planning Software quickly and accurately bridges the gap between pre-operative planning and intraoperative navigation, allowing surgeons to virtually pre-plan the entire procedure and then perform an image-guided realization. During the procedure, Brainlab navigation can be used to verify the desired surgical outcome.
Brainlab KICK Optical Navigation
Kick is a small, sleek, and powerful navigation system that is lightweight, compact, and portable. The operating system and user interface offer an intuitive way to access various applications. The system is compatible with all current Brainlab software and allows easy connection to external devices like endoscopes for combined functionality in the O.R.
LEARN MORE
`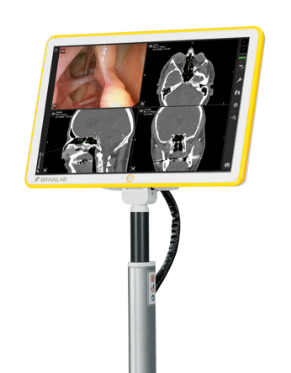 Anatomical Mapping
Enhanced Visualization
Brainlab ENT surgery technologies gives you a clear overview of unique patient anatomy
Get the most out of your data with direct interaction with DICOM images and data enrichment
Avoid high risk structures during functional endoscopic sinus surgery with simplistic intraoperative visualization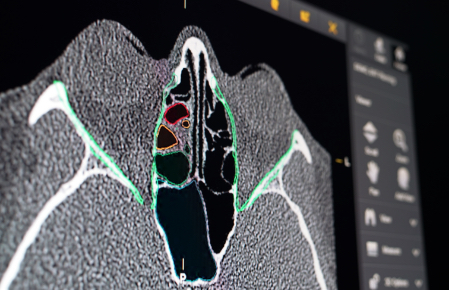 Advanced Planning
Access a broad range of highly automated Elements applications to enrich and simplify your preoperative planning
Get a better overview of your patient's unique anatomy with our intelligent Elements applications
Enjoy automatic MR and CT-based segmentation of ENT relevant structures like the ethmoid bone
Take your plans from the screen into the room with the Elements Viewer with mixed reality views
Elements Viewer
Quick and direct interaction including distance and angle measurement with DICOM data clearly shows the unique anatomy of your patient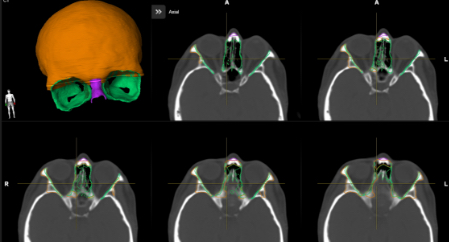 Elements Segmentation Cranio Rhino
Automatic MR and CT-based segmentation of important ENT structures eliminates time-consuming manual segmentation