Olympus to Host Exclusive Luncheon for GI Physicians at NYSGE
Utilizing an Injection Agent during EMR and ESD Procedures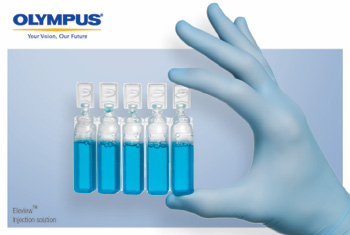 CENTER VALLEY, Pa., (December 12, 2017) – Olympus, a global technology leader in designing and delivering innovative solutions for medical and surgical procedures, among other core businesses, is hosting an exclusive luncheon at New York Society for Gastrointestinal Endoscopy (NYSGE) for GI Physicians. This luncheon, featuring Dr. David Lichtenstein, will focus on the recent co-promotion agreement between Olympus and Aries Pharmaceuticals, Inc. for Eleview™ in the U.S.
Eleview, an FDA 510(k) cleared, ready-to-use submucosal injection composition provides an immediate and long-lasting cushion for GI endoscopic resections of polyps, adenomas, and other lesions. Designed for easy and safe resection, Eleview increases visibility of target lesion margins and is designed to lower the risk of perforation. It is appropriate for challenging polyps, regardless of size, location, or type and the immediate, long-lasting cushion can hold for up to 45 minutes. It improves margin visualization and may help to decrease the risk of gastrointestinal perforation and damage to the external muscular layer, which can lead to gastrointestinal perforation.
Olympus is anticipating the attendance of hundreds of GI physicians at NYSGE who perform advanced polypectomy, EMR, and ESD procedures and require a long-lasting submucosal injection solution.
Dr. Lichtenstein, MD, FASGE, FACG, AGAF and Director of Endoscopy at Boston Medical Center, will highlight the use of Eleview in Endoscopic Mucosal Resection (EMR) for colon polyp resections and Endoscopic Submucosal Dissection (ESD) procedures.
# # #
About Olympus Medical Systems Group
Olympus Medical Systems Group, a division of global technology leader Olympus, develops solutions for healthcare professionals that help improve clinical outcomes, reduce overall costs and enhance quality of life for their patients. By enabling less invasive procedures, innovative diagnostic and therapeutic endoscopy, and early stage lung cancer evaluation and treatments, Olympus is transforming the future of healthcare. For more information visit Olympus at www.medical.olympusamerica.com.